Ready to change your life?
Join the Women's Online Permaculture Design Certificate Course (PDC)!
Community. Connection. Meaningful work.
​Take a life-transforming journey with us.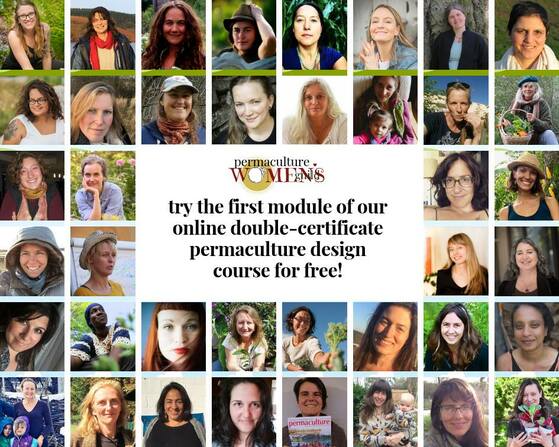 I'm very excited to be one of 40 women from 13 countries who have come together to teach the full Permaculture Design Course Curriculum Online!
This is the first-ever online permaculture design course taught by all women, with added emphasis on the social and cultural applications of permaculture.
If you sign up with me as your mentor, you will also get 3 hours of private tutoring (either in person if you are in Bozeman or via skype/phone if you're not local).
If you are in the Bozeman area, we also have a support group of local students who meet for monthly gatherings! This is a great opportunity to meet like-minded people and grow the local food and permaculture community in the Gallatin Valley.
Sign-up and learn more about this ground-breaking course here.  
Plus, check out the bonuses you'll get when you sign-up: 
This is $100 worth of bonuses for FREE when you enroll in the Online Permaculture Design Course!
​​Have questions, concerns or want to chat further about it? Feel free to call (406.600.7881) or e-mail me (info@brokengroundpermaculture.com). ​
Permaculture is about finding your niche, growing your passion, and sharing the abundance, for the betterment of ourselves and the planet. I hope you'll join us! 
"Another world is not only possible, she is on her way. On a quiet day, I can hear her breathing." – Arundhati Roy