Online Edible Backyards Series
Yes you CAN live in a cold climate and still enjoy homegrown delicious vegetables and fruit.
Eat local, starting in your backyard!
If you love the idea of feeding your family fresh homegrown veggies from your garden but you're just not sure what it takes to make it happen…

If you're intimidated by the short growing season and don't quite know where to start…

If you're staring at the 'blank slate' that is your yard and not sure where to put what…

And if you've been holding back from starting your garden until you can get it just right….

Then you're in the right place.

Maybe you've read books, watched videos, and you have big plans and dreams for your yard and garden. Yet the prospect of translating that into a doable plan seems overwhelming.

I get it, it's hard to know where to start.

You might be feeling overwhelmed with all the things you need to keep in mind. How big should my garden be? Where do I put it? How do I lay it out? Do I need a greenhouse?

And then, because you're not sure how to even START designing an efficient and productive site…

You get stuck and nothing happens, because what if you waste time and money and it doesn't work?

And then comes the feeling of frustration that your plans still haven't happened yet!

And you're back where you started, with the burning desire to grow more food for your family but not really sure the best way to go about it.

INTRODUCING THE EDIBLE BACKYARDS SERIES
A three-part online self-paced series that will teach you everything you need to know in order to convert your yard into an edible landscape. Learn ways to design a beautiful and bountiful space!

By the end of the series, you'll have:
A LAYOUT of your garden and yard
A PLAN for what you're going to grow and where
Composting TIPS and TRICKS for cold climates
How to EXTEND YOUR GARDENING SEASON so you can grow more for longer.
The Edible Backyards Series is divided into three Modules:
Module 1: Designing your Edible Landscape
This module will walk you through the steps to designing your backyard space, including getting – questions to get clear on your goals,
Guidance on mapping your site
My 6 key tips to designing success!
Module 2: Building Healthy Soil
Healthy soil means healthy plants! Having healthy soil is the foundation of your garden. In this module, we'll cover soil components, hot composting, vermicomposting and other ways in which you build soil on your site.
Module 3: Growing in your Garden
Now that you have a design on paper and a foundational understanding of soil, we move into actually growing the veggies. This module walks you through the basics of vegetable growing, gives you tips and tricks for cold climate gardens and offers additional ideas for season extension.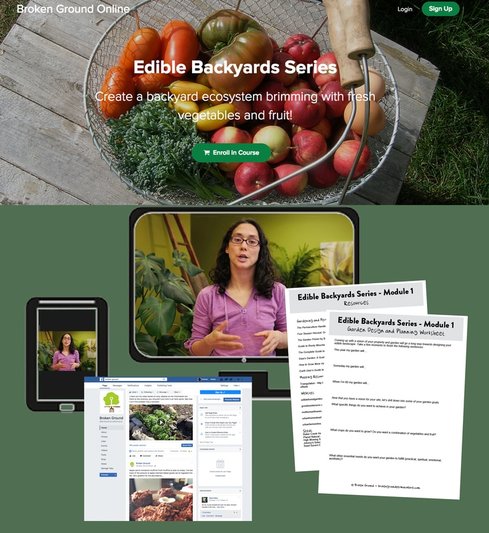 What you'll get:
14 training videos that cover the course topics
Worksheets to reinforce the material and activities to make it specific to your site
A private forum to get your questions answered, available for one year from the date of purchase
Imagine having a completed yard design and a clear plan for the growing season ahead!

Get ready to:
Walk out of your backdoor to do "groceries"
Sit down to a delicious and nutritious meal that comes entirely from your garden
Cut down on your grocery and watering bills
Get healthy by eating from your garden on a daily basis