Food Grower, Permaculture Educator, Garden Designer, Soil-Builder.
I help people in cold climates grow their own food so they can eat healthier, live more sustainably and be more self-reliant.
Homesteader, Permaculture Educator, Food Grower, Garden Designer, Soil-Builder.
I help people in cold climates grow their own food so they can eat healthier, live more sustainably and be more self-reliant.
All the world's problems can be solved in a garden. – Geoff Lawton
People come to me because...
If this sounds like you, then you're in the right place.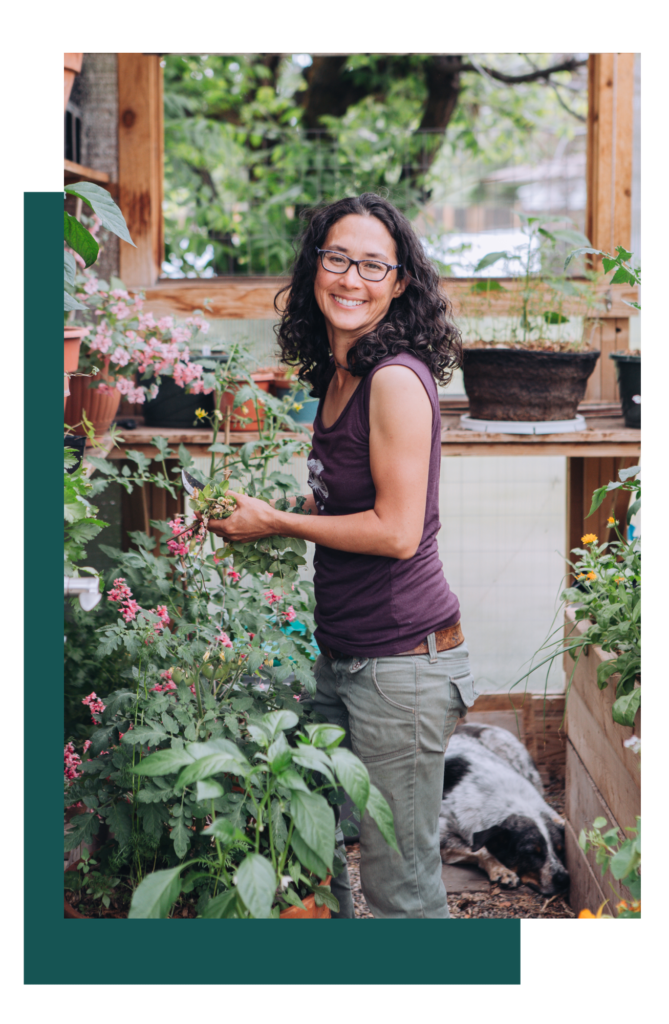 Through live and online workshops, consultations, and edible garden design services, I've helped thousands of people turn their yards into delicious, edible landscapes. 
From getting clients started on their first ever garden, to troubleshooting their garden pest issues, to working with couples on designing a full-blown self-reliant homestead, to designing 30-acre permaculture farms, I am honored to work with people who want to build their self-reliance, on a small or large scale.
At the same time, I'm building my family's self-reliance, on our ¾ acre suburban homestead in Bozeman, Montana. With a greenhouse, large annual gardens, a food forest of fruit trees and berry bushes and a flock of chickens, we manage to grow a good portion of our own food, even with our short and unpredictable growing season.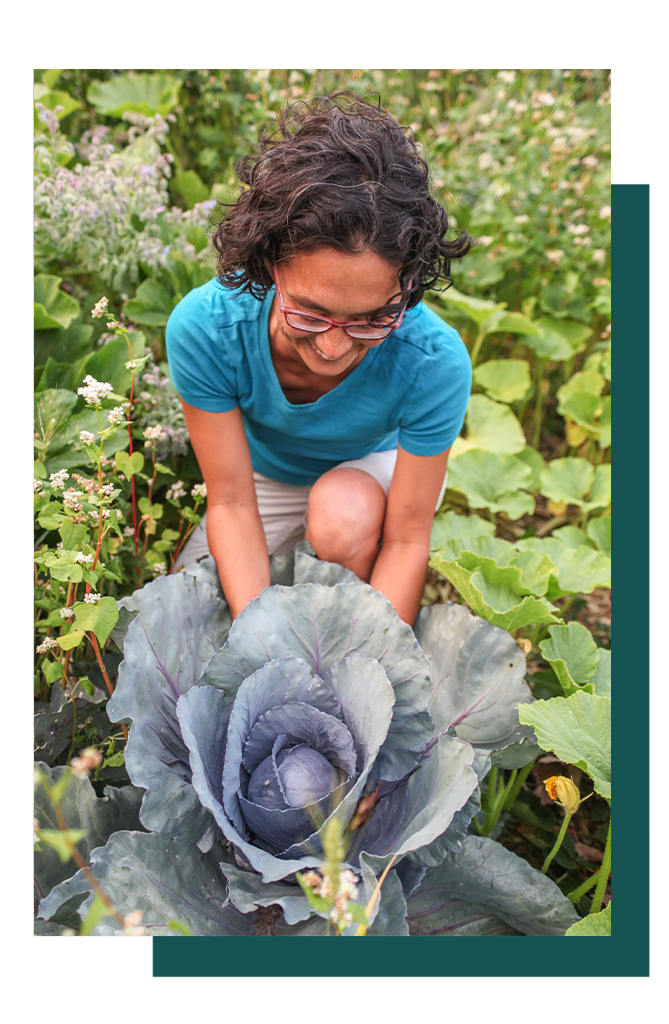 My mom was a homemaker extraordinaire. She baked bread, gardened, canned food, made pasta, pies, jellies and jams. I grew up with a garden, rummaging through our raspberry patch, picking snow peas off the vine, and digging up potatoes. I wish I could say that I learned my skills from my mom, and that I was inspired by my childhood garden…
But I wasn't.
​
I came to gardening and growing my own food through a much more circuitous route. 

From a young age, I loved wild animals and was deeply concerned about environmental issues. I raged at the greed and shortsightedness of those who didn't see the beauty and importance of our natural world.
In my early twenties, that outrage and idealism got me involved in social justice issues. I traveled to Latin America, spent a year as a human rights observer in Guatemala, and came back from that experience wanting to 'change the world'. I had seen how our consumer way of life was dramatically affecting not only our planet but people in the developing world.
So rather than dwelling on the problems, I began looking for solutions.
I enrolled in a course offered by Dr. Vandana Shiva at her organic farm in India. It was during that course that I first heard the term permaculture. I was immediately hooked by this concept and the solutions it had to offer. In permaculture, there is a saying,
"All the world's problems can be solved in a garden."
Indeed, I have found over my years of gardening that this simple statement just might be true. On a personal level, the ability to grow food and create something with our own hands is a powerful act. The opportunity to get outside every day and connect with our natural world is a calming force. Climate change, a pandemic, food shortages, topsoil loss, wildfires – these are unsettling and challenging times, even more so than when I was a kid.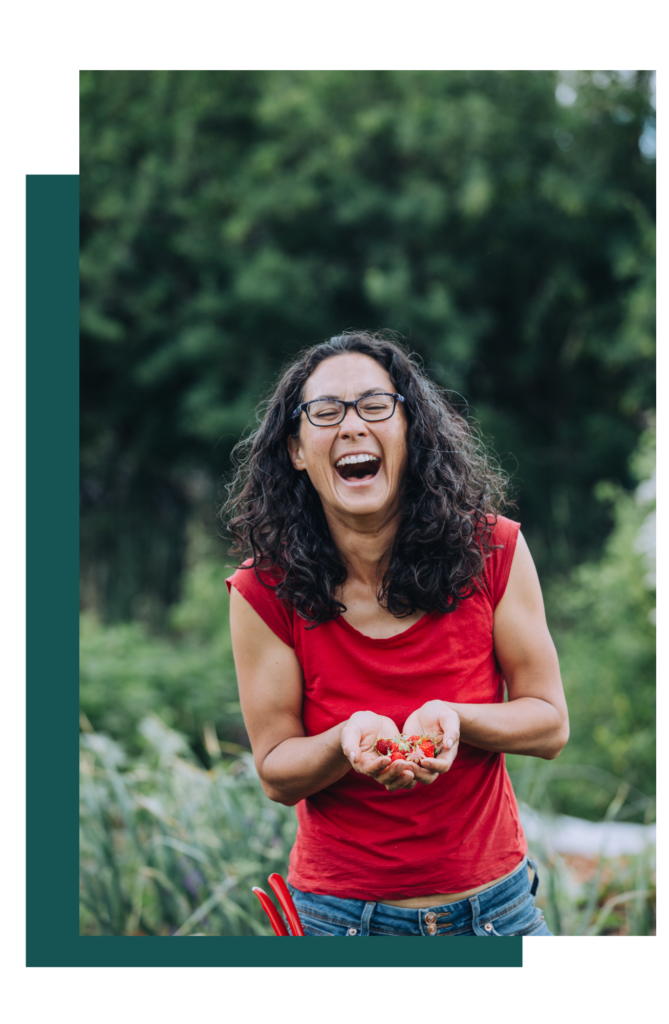 Sometimes it's hard to feel hopeful about the future. 
More and more, we need to get back to the basics. Learning how to grow our own food is one of the most positive steps forward at this time. 
Not only are you setting up your food security and reclaiming your health but this lifestyle allows you to contribute something positive to your community. Rather than feeling helpless and fearful about the future, you feel like you are living part of the solution.
It's my mission to get as many people as possible building a resilient life that enables them to not only live their values and connect to their community but to feed their families safe and healthy food.
Not only do I work with clients to design integrated homesteads through my Resilient Homestead Program, I also work with beginner gardeners through my Starter Garden Workshop. Or, if you need more customized 1: 1 support, you can check out my consultation packages.
With the fresh food that I grow on our homestead each season, my confidence builds that, together, we can solve some of the most pressing problems by living simpler and healthier.
I envision a world where community is created around growing food, where we value our farmers, where the natural world thrives, and where 'progress' in our society is measured by how we contribute in a meaningful way to the world.
Finding beauty in a broken world is creating beauty in the world we find.
– Terry Tempest Williams
I live and work on ancestral lands that were not claimed by any one indigenous nation but shared seasonally by the Crow, Northern Cheyenne, Salish Kootenai, Blackfeet, Bannock, Lakota, Nez Perce, Flathead, Shoshone, and Snake tribes. I honor with gratitude the land itself and the indigenous nations who stewarded this land for thousands of years.